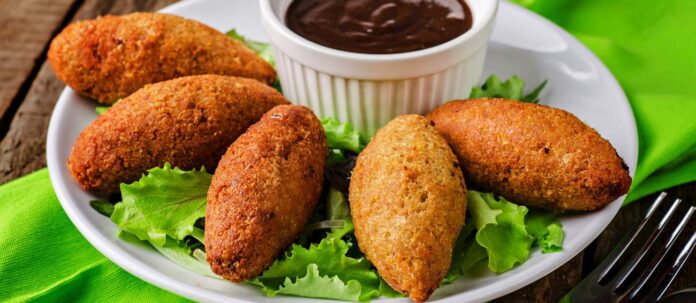 TasteAtlas food rankings are based on the ratings of the TasteAtlas audience, with a series of mechanisms that recognize real users and that ignore bot, nationalist or local patriotic ratings, and give additional value to the ratings of users that the system recognizes as knowledgeable.
For the "50 Best Rated Meatballs in the World" list until September 25, 2023, 3,812 ratings were recorded, of which 2,280 were recognized by the system as legitimate. TasteAtlas Rankings should not be seen as the final global conclusion about food. Their purpose is to promote excellent local foods, instill pride in traditional dishes, and arouse curiosity about dishes you haven't tried.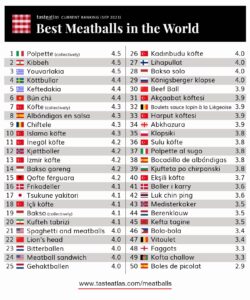 No 3 – Youvarlakia / Greece
This hearty Greek soup couples tender beef meatballs and a creamy, flavorful broth. The meatballs and the broth are usually seasoned with various fresh herbs, and the whole dish is finished with the addition of avgolemono—the creamy egg and lemon sauce—which thickens the broth and adds the characteristical zesty flavor. Traditionally associated with wintertime, youvarlakia is usually accompanied by bread and enjoyed as a nutritious main course.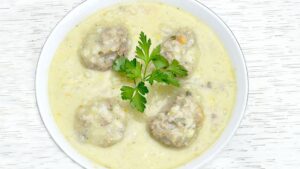 No 5 – Keftedakia / Greece
Flavorful, fluffy, and tender, keftedakia are Greek meatballs made from a combination of ground pork and beef, eggs, stale bread or breadcrumbs, and seasonings such as dill, pepper, parsley, and oregano. The mixture is shaped into small balls which are then fried in olive oil. Their round shape makes them ideal for popular Greek picnics where keftedakia are consumed as snacks, but the meatballs can also be consumed as appetizers or as a main course. It is recommended to top the meatballs with some butter and a squeeze of lemon juice for extra flavor.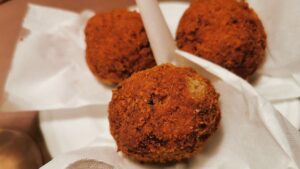 And the Winnner is… Polpette / Italy 
Polpette is a word denoting Italian meatballs, traditionally consisting of ground beef or veal (and sometimes pork) that is shaped into small balls. These meatballs are usually enriched with a wide variety of ingredients such as parsley, eggs, garlic, and sometimes even mortadella or Parmigiano Reggiano.
Although some might think that polpette are served with pasta, that is mostly an American thing, and Italian polpette are typically consumed on their own as a snack, appetizer, or finger food that is especially beloved by children of all ages. / TasteAtlas