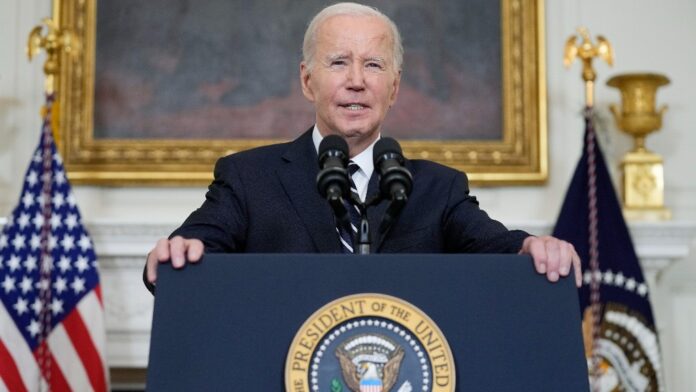 WASHINGTON — President Joe Biden strongly condemned Hamas' terrorist attacks in remarks Tuesday from the White House, three days after Hamas fighters launched a surprise attack on Israel, prompting all-out war between the two sides.
"In this moment, we must be crystal clear," Biden said. "We stand with Israel."
In his remarks, the president made clear he was sickened by the brutality of the "vicious attacks," which he said led to 1,000 Israeli and 14 American deaths.
"The loss of innocent life is heartbreaking," the president said.
Biden called on Americans to put aside politics to unite to help the Israelis.
"There is no place for hate in America — not against Jews, not against Muslims, not against anybody," Biden said. "We reject that. We reject this terrorism."
Biden expressed sympathy for the victims.
"You all know these traumas never go away, there's still so many families desperately waiting to hear the fate of their loved ones, not knowing if they're alive or dead, or hostages," Biden said.
Biden gave his remarks following a phone call with Israeli Prime Minister Netanyahu, the third between the two leaders since the attack.
Israel's military on Tuesday claimed to have regained control inside the country after it ordered a "full siege" of Gaza, meaning that no food, gas or power would be allowed into the densely populated area, Defense Minister Yoav Gallant said.
Fears have grown over the hostages that Hamas fighters took as it assailed parts of southern Israel and the militant group threatened to start executing them if Israel bombed civilian targets in Gaza.
The exact number of hostages taken by Hamas fighters is unknown. No Americans have been confirmed to be among the hostages, but U.S. National Security Counsel spokesman John Kirby said that a number of Americans are unaccounted for and that it's possible that they are among those being held hostage.
In a statement Monday, Biden said at least 11 Americans had been killed in the Israel-Hamas war and that "it is likely" that some Americans are being held hostage.
"We are seeing the immense scale and reach of this tragedy," Biden said. "In this moment of heartbreak, the American people stand shoulder-to-shoulder with Israelis. We remember the pain of being attacked by terrorists at home, and Americans across the country stand united against these evil acts that have once more claimed innocent American lives. It is an outrage."
The Biden administration has stated its support for Israel. In his statement, Biden said he reaffirmed to Israeli Prime Minister Benjamin Netanyahu that the U.S. would "continue to make sure Israel has what it needs to defend itself and its people."
In a press conference on Monday morning in Tel Aviv, the families of Americans believed to have been taken hostage by Hamas called on Biden to take action to bring them home.
After saying that the Israeli government has the responsibility of bringing back all hostages, the son of missing 66-year-old Adrienne Neta stressed the Biden administration also shares responsibility for every U.S. citizen whose life is at stake in the Israel-Hamas war.
"They're responsible to bring the U.S. citizens back home, safe and sound. We expect nothing less from the U.S. administration from President Biden and Secretary of State Blinken," he said. "I speak in the name of myself and my family and I wish for the quick solution for this terrible, terrible situation that all of us are in."
In support of Israel, the Biden administration is sending ships from the Navy's USS Gerald Ford Carrier Strike Group to the eastern Mediterranean Sea, and officials plan to keep in place some F-16 and A-10 fighter jets that were previously scheduled to rotate out of the region, a U.S. official told NBC News. The move is intended to signal a message to "stand down," an official said.
The death toll from the Israel-Hamas war has soared to more than 1,600 people as of Tuesday morning, three days after Hamas fighters launched surprise attacks on Israel, according to officials. More than 900 people died in Israel and at least 770 in Gaza, with over 6,000 people injured in Israel and Gaza, officials said.
Biden is expected to face competing pressures within and outside of the Democratic Party that will make it more difficult to keep his pledge to provide support for Israel's plans to defend the country.
Peter Nicholas and Peter Alexander reported from Washington. Summer Concepcion reported from New York. / nbcnews
VIDEO / CNBC TV