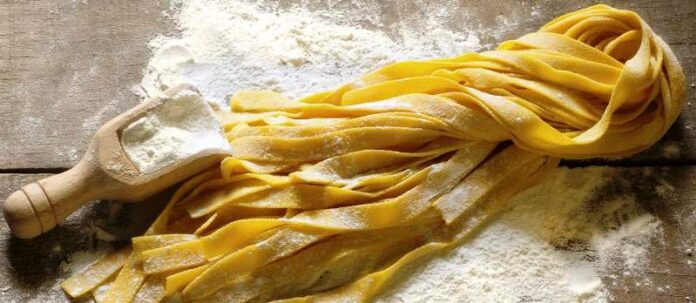 TasteAtlas food rankings are based on the ratings of the TasteAtlas audience, with a series of mechanisms that recognize real users and that ignore bot, nationalist or local patriotic ratings, and give additional value to the ratings of users that the system recognizes as knowledgeable. For the "50 Best Rated Pasta Varieties in the World" list until June 15, 2023, 4,090 ratings were recorded, of which 3,338 were recognized by the system as legitimate. TasteAtlas Rankings should not be seen as the final global conclusion about food. Their purpose is to promote excellent local foods, instill pride in traditional dishes, and arouse curiosity about dishes you haven't tried.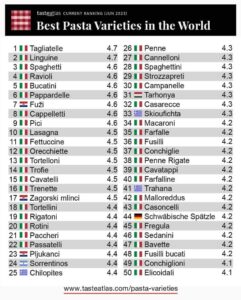 And the winner is…. Italian Tagliatelle on the Top!
Tagliatelle are a type of pasta consisting of wheat flour and eggs, or formerly flour and water or whole-wheat flour and water. The wider noodles are called tagliatelle, while the thinner variety is called tagliolini.
The name is derived from the word tagliare, meaning to cut. Tagliatelle were reserved for special occasions in the past, but today they are served any day of the week. According to a very popular legend, they were invented in 1487 by Maestro Zafirano, a cook from Bentivoglio, for the marriage between Duke of Ferrara and Lucrezia Borgia.
He was supposedly inspired by the bride's beautiful blonde hair. However, the truth is different, since there are pictorial representations of tagliatelle before this date in Tacuinum Sanitatis, an 11th-century Arab health manual that was translated to Italian and illustrated in the 14th century.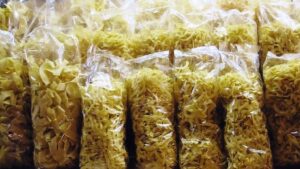 Regardless of their origin, tagliatelle are still one of the most popular Italian pasta types, typically served with a meat sauce or Bolognese sauce.
Chilopites from Crete
Chilopites is a traditional Greek pasta variety hailing from Crete. It's usually handmade by women at the end of summer. The pasta is typically made with flour, water or milk, olive oil, eggs, and a bit of salt. The dough is cut in narrow stripes or small rectangles, depending on the area.
Also known as hylopites or hilopites, the pasta is dried under the summer sun before it's stored in white sachets by the housewives in order to be used in the winter. It's recommended to serve chilopites with grated myzithra cheese and tomato sauce.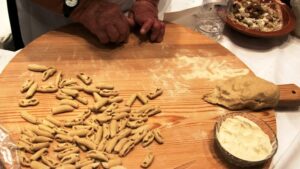 Skioufichta from Crete 
Skioufichta is a traditional handmade Cretan pasta. It's made from whole-wheat flour, salt, water, and olive oil or butter. The dough is rolled into thin strips, then cut into pieces that are pressed with a spiral movement of the fingers, resulting in the typical twisted shape of the pasta.
The name of the pasta is derived from the word skioufizo, meaning to twist, referring to this method of production that requires experience and skill. Traditional recipes call for "burning" the pasta in butter, then topping it with large amounts of grated anthotyro or myzithra cheese.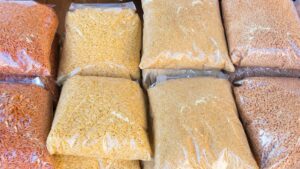 Trahana
Trahana is a traditional Greek pasta-like product consisting of small coarse granules that are made by combining wheat and dairy products such as milk, sour milk, buttermilk, or yogurt. This product is believed to have ancient origins, and the age-old tradition of its preparation is thought to have initially been a means of preserving milk in pre-refrigeration times.
It is typically prepared with wheat flour, semolina flour, cracked wheat, or bulgur (especially on Crete), while some versions may also call for the addition of eggs. Traditionally, the mixture is dried in the sun before it's broken up into uneven-shaped pieces, or it can be first boiled to a porridge-like consistency and then sun-dried. / info: TasteAtlas