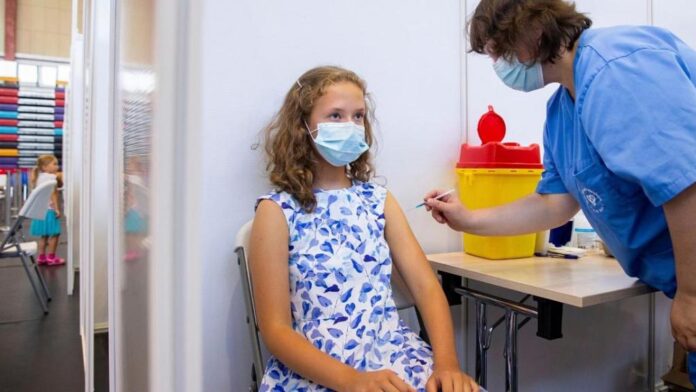 The COVID-19 vaccine race has focused on getting the elderly and medically vulnerable protected before gradually moving through the rest of the adult population. In the latest EU figures, 75.6 per cent of the adult population in the bloc have been vaccinated and there are similar numbers for the rest of Europe. So, the question has become who next?
The goal has shifted to vaccinating as many children as possible to try and reduce the spread of infection and variants in the community.
The European Medicines Agency (EMA) approved the use of the Pfizer vaccine for children aged 12-15 in May this year, the first COVID-19 vaccine to be given such approval in the EU.
The authorisation was based on a study involving 2,259 children in the age group which showed that their immune response was comparable to those in the age 16-25 cohort.
None of the children who received the vaccine developed COVID-19, compared to 16 who did develop COVID-19 after receiving a placebo.
The EMA approved the Moderna vaccine for use in the 12-17 age group the following month. This time, a study of 3,732 children in this particular age group showed none of those who received the vaccine contracted COVID-19 compared to four in the placebo group.
Should children get a COVID vaccine?
There has been a debate over the merits of vaccinating children who do not have underlying conditions as the chances of them developing a severe illness from COVID-19 are quite low, and this has to be balanced against the potential side effects of the vaccine.
The EMA acknowledged that the limited numbers in both studies meant that they could not detect rare side effects. However, they concluded that the benefits of the vaccines for this younger age group outweighed any potential negatives.
There has also been some concern over cases of myocarditis and pericarditis following the administration of mRNA vaccines. / info: euronews