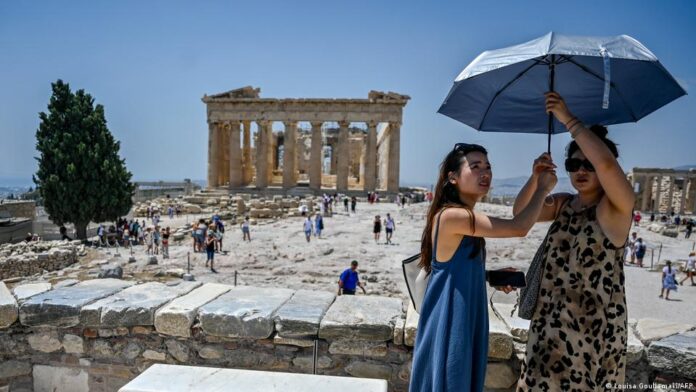 British holidaymakers aiming to travel to mainland Europe this summer are worried they are not going to be able to cope with temperatures that may exceed 40C, with some having to cancel their tourist plans.
Others already on holiday were having second thoughts. "We did this for a treat," said one 61-year-old woman from London, who has gone on a cruise around the Mediterranean with her son before he heads to university. "We had booked excursions but by the looks of it we will stay on the boat the whole time because it will be too hot to do anything really.
"We usually do our holidays in England but we wanted something different this year," she added. "I don't think I will do this again or maybe we'll make such plans around Easter instead."
Paola Deitan, a 29-year-old from Marlborough, Wiltshire, was planning to travel with her best friend to Greece but has now changed plans and will head to the milder climes of Barcelona instead. "Obviously, I am worried about my health," she said. "I don't want anything to happen to me while on holiday."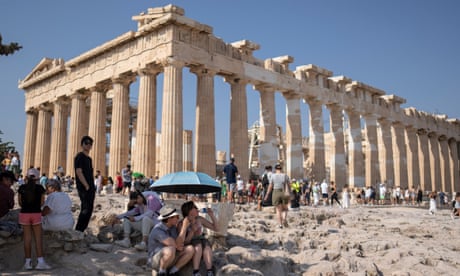 Justine Rush, 53, is currently in Corfu with her husband and "two post-exam teens". "I was expecting it to be hot, maybe 31, but it's more like 37," she said. "It's properly hot – too hot to go outside in the day, except when you're in the sea. We've had to stay in our room most of the day.
"I don't normally like to be on the beach all day, but we can't do anything else. We've had to cancel plans to go on a day trip to a nearby town. Luckily we managed to not lose any money."
Italy is expected to see the heatwave continue into next-week, and Greece will have temperatures as high as 40C (104F) or more. This sweltering weather sweeping across Europe is similar to summer of 2022, which saw the continent engulfed in similar conditions with temperatures as high as 47 C (116.6F).
The Met Office has released multiple hot weather warnings to those travelling abroad this summer, urging people to be careful of the health risks. There is increasing concern after a man died in Northern Italy earlier this week. The 44 year old lost consciousness after working outside all day in the 40 C (104F) heat. / The Guardian / Photo DW