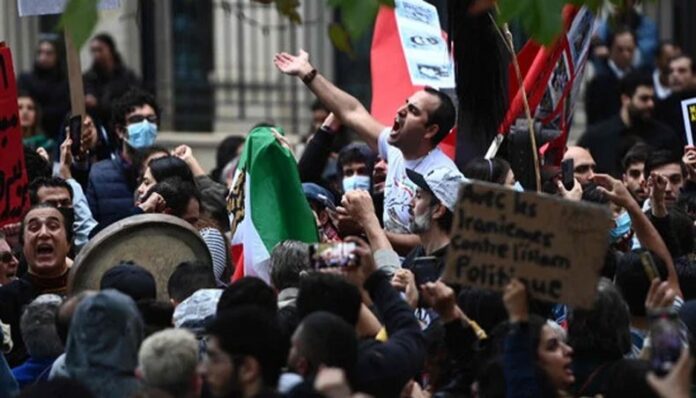 Two boys were shot dead by security forces during anti-government protests in south-western Iran on Wednesday, sources close to their families say.
State media reported that seven people were killed by gunmen on motorbikes in a "terrorist attack" in Izeh.
But the sources told BBC Persian that security personnel fired the live rounds that killed Kian Pirfalak, nine, and Sepehr Maghsoudi, 14.
At least 13 people were said to have been killed elsewhere on Wednesday.
There has been a wave of street demonstrations and strikes in major cities since Tuesday in response to calls to commemorate those killed in the bloody crackdown on the November 2019 protests over fuel price rises.
The current protests against clerical rule were sparked by the death in custody three months ago of Mahsa Amini, a 22-year-old woman who was detained by morality police for allegedly breaking the strict rules on hijabs.
At least 362 protesters, including 56 children, have been killed and 16,000 arrested as security forces have struggled to suppress what Iran's leaders have portrayed as "riots", according to the Iranian Human Rights Activists News Agency (HRANA). It has also reported the deaths of 46 security personnel.


Seven people were killed, including a nine-year-old child and a woman, while three police officers and two members of the paramilitary Basij Resistance Force were among the wounded, it added.
In the night-time footage, gunshots can be heard as a motorbike drives past pedestrians.
However, the state media reports were rejected by opposition activists and sources close to two of the victims' families.
A source close to the family of Kian Pirfalak told BBC Persian's Parham Ghobadi that the nine-year-old had been travelling in a car with his father, Maysham, when a group of security personnel fired at them.
Kian was shot in the chest with a live round and died at the scene, they said, while Maysham was hit three times in the back and was being treated in hospital.
A video was also posted on social media in which an unidentified male relative of Kian is heard speaking over blurred footage of his body. "He was going home with his father and was targeted with bullets by the corrupt regime of the Islamic republic," the man says.
A source close to Sepehr Maghsoodi's family told BBC Persian that the 14-year-old was shot in the head with a live round at a protest in Izeh.
The source also alleged that security forces stole his body from the local mortuary two hours after it was brought there.


The opposition activist collective 1500tasvir also accused security forces in Izeh of killing another 14-year-old male protester, who they named as Artin Rahmani. Before he went out to protest, they said, he wrote on Instagram: "This land, to me, was of no benefit Yet, I'm ready to drop dead for it!"
VIDEO
1500tasvir also posted several videos of protests in Izeh before state media reported the shooting.
One showed a crowd walking along a street and chanting "this year is the year of blood, Seyed Ali will be toppled" – a reference to the Supreme Leader, Ayatollah Ali Khamenei. In another, protesters were seen setting fire to what 1500tasvir said was a seminary in the city.
Kurdish human rights group Hengaw meanwhile said that at least 10 protesters were killed by security forces in the north-western cities of Bukan, Kamyaran, Sanandaj and Saqqez – Mahsa Amini's hometown – on Wednesday.
State TV also reported that three members of the security forces were killed in another "terrorist attack" that saw gunmen riding a motorbike opened fire in the central city of Isfahan.
"The enemies have targeted the integrity of Iran and Iranian identity," Iran's Foreign Minister Hossein Amir-Abdollahian tweeted on Thursday morning.
"The security services of the fake Israeli regime and some Western politicians who have drawn plans for civil war, and the destruction and partitioning of Iran, should know that Iran is not Libya or Sudan," he added. / By David Gritten – BBC News / photo: newagebd.net
video / Al Jazeera English