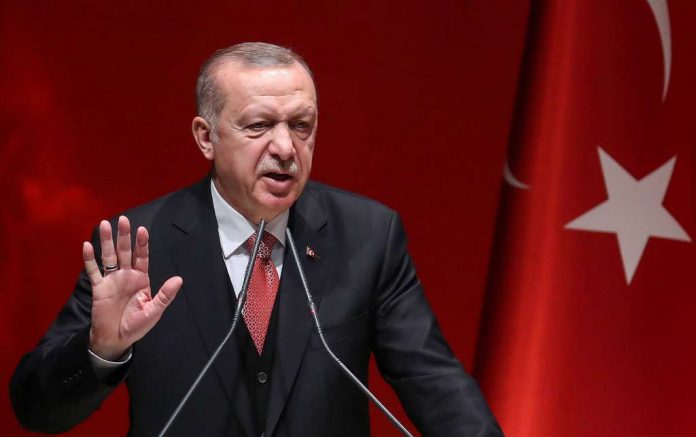 On the shore of the Turkish city of Izmir, once known as Smyrna, where more than 150,000 Greek and Armenian inhabitants of the city were slaughtered and more than 750,000 made refugees by Turkish forces during the burning of Smyrna in September 1922, a statue of Turkish General Mustafa Kemal Ataturk on horseback facing and pointing West is inscribed with the quotation "Armies, your first target is the Mediterranean Sea. Forward!" 
French President Emmanuel Macron, however, is the only Western leader with the courage to address the clear and present danger Turkish President Recep Tayyip Erdogan's ambitions pose beyond Turkey's borders. France has taken a leadership role in Europe as Germany and the United Kingdom continue to avoid exercising sound judgment and taking appropriate action in European security matters. French President Macron is correct in stating Europe must embrace "strategic autonomy" and take greater ownership of its security interests beyond the framework of NATO. Macron understands.
As the 200th anniversary of the fight for freedom from Ottoman rule and the rebirth of democracy in Greece approaches, Erdogan's authoritarian government continues to engage in direct acts of passive and active aggression against United Nations member-states, EU member-states, NATO allies and partners and US interests.
Erdogan is emboldened by the enduring myth of Turkey's geostrategic importance, greatly diminished since the end of the Cold War, and the decades-long failure of the EU, US and NATO to properly address Turkish aggression. Turkey's decades-long unreliability as an ally, its role as a gateway for foreign jihadi fighters between Europe, the Middle East and North Africa, and flirtation with China and Russia in advanced weapons procurements – most recently, the Russian S-400 missiles – affirm Turkey cannot be trusted as a NATO ally.
A significant enough concern for the US State Department and Department of Defense to remove dependents of US diplomats and military personnel assigned to posts in Turkey in 2015.
Failure to rein in Erdogan has destroyed the credibility of NATO, the EU and US. As a member of the NATO Alliance, the US, and other NATO nations, should be outraged by Erdogan's continued assaults on the EU's borders in Greece and the Aegean, the Turkish military occupation of a EU sovereign state, Cyprus, claims to EU Economic Zone hydrocarbon resources in the Eastern Mediterranean, the desecration of UNESCO World Heritage Christian monuments, and recent attempts to derail the unification of Cyprus.
---
* Commander Demetries Grimes is a former US naval officer, aviator and diplomat. He has served as naval attaché to Greece and Israel, deputy commander of the US base in Crete, and adviser to NATO's Maritime Commander in London, UK.
kathimerini