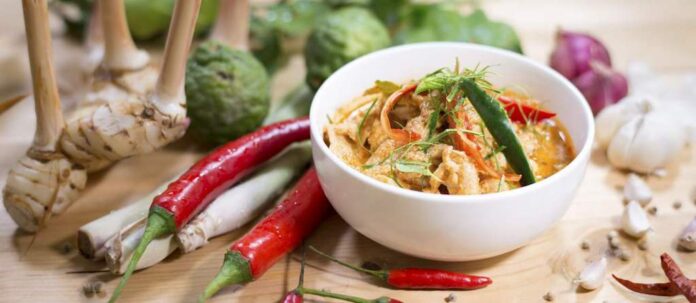 The Phanaeng Curry of Thailand, is on the top of 100 best rated stews of the world, according to Cloud Atlas! In second place comes the Japanese Karē and third the Sichuan Hot Pot, from China. 
Phanaeng curry is a variety of Thai curry that is characterized by its thick texture and a salty-sweet peanut flavor. It consists of meat that is stewed with dried chilis, kaffir lime leaves, coconut milk, cilantro, cumin, garlic, lemongrass, shallots, and peanuts.
The meat used in phanaeng curry is usually beef, chicken, or duck, and the dish traditionally does not include any vegetables. The name of the dish is derived from the word panang, meaning cross, which refers to the ancient way of preparing chicken with its legs crossed and set in an upright position.Though the origins of phanaeng curry are somewhat murky, it is often associated with the Malaysian state of Penang, but there is little evidence to support this claim. However, the earliest known recipe is found in Maawm Sohm Jeen's book Tam Raa Gap Khao, dating back to 1890. / cloud atlas
A stew is a combination of solid food ingredients that have been cooked in liquid and served in the resultant gravy. Ingredients can include any combination of vegetables and may include meat, especially tougher meats suitable for slow-cooking, such as beef, pork, venison, rabbit, lamb, poultry, sausages, and seafood. While water can be used as the stew-cooking liquid, stock is also common. A small amount of red wine or other alcohol is sometimes added for flavour. Seasoning and flavourings may also be added. Stews are typically cooked at a relatively low temperature (simmered, not boiled), allowing flavours to mingle.
Stewing is suitable for the least tender cuts of meat that become tender and juicy with the slow moist heat method. This makes it popular in low-cost cooking. Cuts having a certain amount of marbling and gelatinous connective tissue give moist, juicy stews, while lean meat may easily become dry.
Stews are thickened by reduction or with flour, either by coating pieces of meat with flour before searing, or by using a roux or beurre manié, a dough consisting of equal parts of fat and flour. Thickeners like cornstarch, potato starch, or arrowroot may also be used. (wikipedia)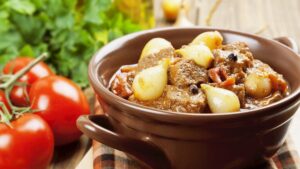 In place 21, rated the Greek 'Stifado'. Is a hearty Greek one-pot stew that is ideal for a cold winter's day. Although the ingredients vary from region to region and from cook to cook, the essential ones are large amounts of onions, tomatoes, wine or vinegar, and sometimes garlic.
Depending on the region, meat such as goat, rabbit, wild hare, beef, snails, tripe, or octopus can be added to the stew. Others like to add mushrooms or warming spices such as cinnamon, cloves, and allspice. The usage of those spices points to a possible Levantine influence, while the name of the dish is a clear indicator of Italian influence, derived from the word stufato, meaning stewed in Italian.
When the stew is cooked, it is recommended to pair it with crusty bread and a glass of red wine on the side.