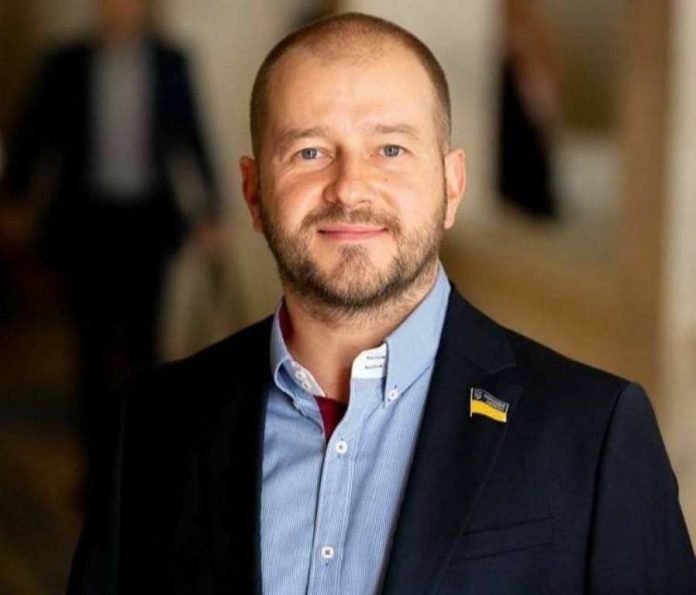 Member of the Ukrainian parliament, deputy head of the most represented in parliament, presidential political party «Sluga Narodu». Parliament's Committee on Regulations and Parliamentary Ethics vice-chairman.
He is a member of the Supreme Council of the «Sluga Narodu» political party (administrative unit).
Until his election into the parliament in 2019, he was an entrepreneur and CEO of company specialized in infrastructure projects.
He has a special education in marketing. In 2018 he led Vladimir Zelensky campaign headquarters in Kiev. During the campaign he accepted an offer to run for parliament with political party «Sluga Narodu».
Exclusive interview
«Ending the war in Donbass is a priority for millions of Ukrainians and our President», says in his exclusive interview to our blog 'News-Politics' mr Artem Kultenko.
Speaking about the presidency of Volodymyr Zelenskiy, mr Kultenko underlines that «This post needed someone with zero tolerance for corruption, for whom human life and well-being would come first, and we elected such a person».  
Answering the question about Donbass and Crimea, he says that «Crimea and Donbass were, remain, and will be the territory of Ukraine» and when it comes about the division of the Christian orthodox flock he claims that «Religion cannot be a political issue». 
We all know how difficult time is for the world because of the COVID-19 pandemic crisis. Can you describe the situation in Ukraine to us? Did the government take enough measures to address the pandemic?
At first, when the pandemic gained momentum across Europe, our country introduced a lockdown. But the reason was not the large numbers of infected people, but the unpreparedness of the healthcare system for a heavy load. Many even considered such measures an overreaction, but now we understand that they were justified. This time helped to prepare the medical system for the load as much as possible.
At that time, the virus was contained. But this success also gave excessive hope that the disease would not return, so people's vigilance weakened. This autumn, our country has received an already real surge in the incidence. The government has announced an upcoming lockdown in January 2021. For a long time, we've had an adaptive quarantine when local authorities can regulate restrictions depending on the virus's spread, and the government has determined specific parameters for this purpose.
The government is now very cautious about introducing new restrictions and first looks at the load of the healthcare system. Some rules apply at all times, such as wearing masks, for example, and fines are imposed for breaking them.
It's necessary to understand that a strict quarantine is also a blow to the national economy, an increase in the number of unemployed, and the closure of small businesses, which there are many in the country. Although the Ukrainian economy shows the prospect of stable growth, we're still not at a very high level.
In the first "wave," the Ukrainians themselves also did a lot for the nation to cope. Since the beginning of the pandemic, many began to help the country as best they could – people delivered food to older adults and those at risk, purchased the necessary equipment and protective tools for hospitals, made funds for doctors, organized transportation. There were thousands of such people, from representatives of big business to simple employees. It seems to me that our country's strength is precisely the people who are ready to help.
It's probably too early to say whether the government has coped with this new wave of coronavirus currently underway. Like all countries throughout the world, even those with the most advanced health systems and economies, we were not prepared for such circumstances. Now we hope for the observance of all precautions by residents and the government's timely action.
It's been more than a year since the election of Mr. Zelenskiy as President of Ukraine. Do you think there is a change in many levels, and what should be the priorities, in your opinion?
This post needed someone with zero tolerance for corruption, for whom human life and well-being would come first, and we elected such a person. Of course, there are many changes after Mr. Zelenskiy's team coming to power, from the liberation of Ukrainians from captivity in Russia to the digitalization of public services, one of the best e-passport applications, and the most significant infrastructure renovation for all years of independence.
The legislative changes that the President and our team promised in our election program are being implemented, in particular, laws on decentralization, on referendums and democracy, responsibility for illegal enrichment, a new electoral code, and many others.
If we look at the election program, we'll see that a considerable portion has already been done. But, of course, this not enough. Many reforms and changes do not proceed as quickly as we would like or as it seemed to us a year and a half ago because there are various obstacles. The pandemic has undoubtedly left its mark here, too.
Ending the war in Donbass is a priority for millions of Ukrainians and our President.
I would also highlight the development of the country's economy, including the free development of business and the absence of corruption. These achievements would help our country to become successful and allow people to live happier lives.
Our country has many talented people in various fields who could open businesses, make scientific discoveries, and commit breakthroughs in the world of technology, so we would like to create the best conditions for them.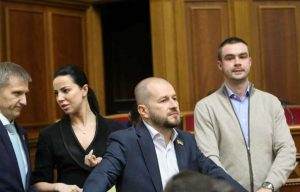 A question about foreign policy. What steps do you think the Ukrainian government should make to improve relations with Europe and the USA?
We maintain partnerships with Europe and the USA and continue the cooperation with them. In my opinion, the most important step for our government is to ensure a good level of development of the Ukrainian state because this will be the best characteristic of our country as an equal partner with different nations.
An important question about human rights violations in your country. It's about Crimea and Donbass. Can you describe the current situation to us? Most of the people in Europe and West countries do not have a clear image.
Crimea and Donbass were, remain, and will be the territory of Ukraine. They were occupied in 2014. And the fact that Ukrainians have pass through checkpoints to get to Crimea and Donbass, to their homes, is very unfair.
For us, and for the President, the preservation of human lives and the path to peace are the most important points in this matter. A year ago, we returned many of our prisoners of war. Now, we take maximum measures to ensure that there is no fire in the territory of Donbass. Ukraine, for its part, adheres to the ceasefire regime, which saves human lives and gives hope to all of us that the peace will come. Ukraine will not leave its territory, but this is not even about a piece of land; first, it's about the people, Ukraine's civilians, who remain our citizens on both sides of the front line in the Donbass and Crimea and want a peaceful life for Ukraine.
Last question about the Church. There has been a division between the orthodox flock in Ukraine. The Ukrainian Government had made clear that it doesn't want to involve in it. What's your opinion?
People go to church not for politics but for God.
We have indeed faced a situation of the Orthodox Church division. Orthodox Christianity is the predominant religion in Ukraine. For us, as for the entire team of the current government, this situation was already present.
As for me, I'm against any division. All attempts contradict our religion in its essence. We must also understand that it's categorically wrong to divide people, ordinary Orthodox parishioners, into "right" and "wrong." Church and God do not separate us but unite us, so why don't people follow such an example?
The non-interference of the power and the government in matters of religion seems to me the only right solution dictated by the Constitution of our country. Religion cannot be a political issue, and everyone has the right to religious freedom.
The Church has existed for two thousand years and will last forever while governments come and go. Human intervention attempts, and especially governments' intervention, are likely to have an adverse impact in this case. History already knows such examples, so I support the government's non-intervention.
As a believer, I want to add that God knows how to resolve any conflicts and situations that seem hopeless or complicated to us now. All this is His will, no matter how we try to change it.
In general, there have been many attempts to create a conflict in Ukrainian society through the division of citizens – into East and West, based on language, and so on. As for me, it's much more important to unite because we have so much in common, at least the future of our country, which is already a lot.
News-Politics /  Peggy Dokou