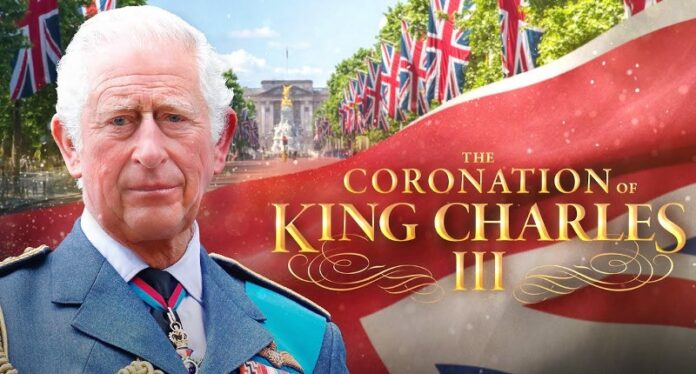 The coronation service for Britain's King Charles III and Queen Camilla is underway, a once-in-a-generation royal event that is being witnessed by hundreds of high-profile guests inside the abbey, as well as tens of thousands of well-wishers who have gathered in central London despite the rain.
The King and Queen arrived at Westminster Abbey in a splendid coach drawn by six horses, accompanied by the Household Cavalry. They then walked down the long aisle wearing historic robes, flanked by the top officials of the Church of England as well as some of their closest family members.
While Charles became King on the death of his mother, Queen Elizabeth II in September last year, the coronation is the formal crowning of the monarch. In a ceremony that is expected to last about two hours, Charles will be officially crowned, presented with an array of ceremonial objects and be recognized as King by various representatives of the British state.
Despite the splendor of the occasion, it has not been without controversy. Some have objected to millions of pounds of taxpayers' money being spent on a lavish ceremony at a time when millions of Britons are suffering a severe cost-of-living crisis.
The coronation has also attracted anti-monarchy demonstrations, with a small number of protesters arrested in central London on Saturday morning before the event began.
Some royal fans have spent the past few days camping along the 1.3-mile (2km) route from Buckingham Palace, the British monarchy's official London residence, to Westminster Abbey, the nation's coronation church since 1066. Their desire to secure the best vantage point for the procession was tested on Friday when London was repeatedly doused by heavy rain and hail.
By early Saturday, the London Metropolitan Police Service announced that all viewing areas along the procession route were full and closed off to new arrivals.
The Met said ahead of time that Saturday would be the largest one-day policing operation in decades, with more than 11,500 officers on duty in London. Security around the event came into focus earlier this week when a man was arrested just outside Buckingham Palace after he allegedly threw suspected shotgun cartridges into the palace grounds.
The ceremony was expected to last around two hours – about an hour shorter than Elizabeth II's coronation in 1953.
The congregation, while including some 2,300 people, is much smaller than it was in 1953 when temporary structures had to be erected within the abbey to accommodate the more than 8,000 people on the guest list.
The doors to the abbey opened just before 8 a.m. local time, with the first guests taking their seats a full three hours before the ceremony began.
Among the first people to arrive were singer Lionel Richie, musician Nick Cave, actresses Emma Thompson, Joanna Lumley and Judi Dench, composer Andrew Lloyd Webber, UK Labour Party leader Keir Starmer, and broadcaster Stephen Fry.
Top British officials, faith leaders and international representatives followed in their steps. They all took their seats in the vast church with more than an hour to go – reflecting the huge logistical challenges presented by an event attended by hundreds of VIPs.
UK Prime Minister Rishi Sunak was there, as were all his living predecessors: Liz Truss, Boris Johnson, Theresa May, David Cameron, Gordon Brown, Tony Blair and John Major. Mayor of London Sadiq Khan, UK opposition leader Keir Starmer and Chancellor of the Exchequer Jeremy Hunt were also in attendance.
First Lady of the United States Jill Biden and the US Special Presidential Envoy for Climate John Kerry were there, as was the Chinese Vice President Han Zheng.
Canadian Prime Minister Justin Trudeau, French President Emmanuel Macron and numerous other world leaders were also present.
Last to arrive, just before the King and Queen, were the most senior members of King Charles' family, his siblings and children, including Prince Harry who traveled to the UK from the US without his wife, Meghan, the Duchess of Sussex and their two young children. Saturday is also Prince Archie's 4th birthday. / LondonCNN