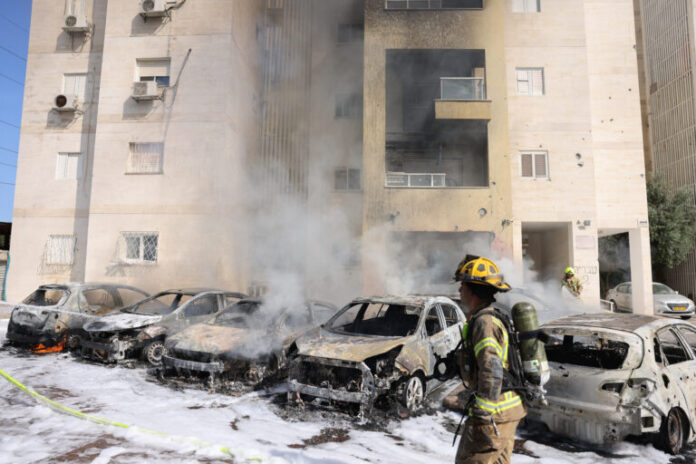 Israel's Prime Minister Benjamin Netanyahu declared that the country was "at war" on Saturday, after Palestinian militants in Gaza fired a deadly barrage of rockets and sent gunmen into Israeli territory in a major escalation of the long running conflict between the two sides.
The early-morning surprise attack has left at least 22 people dead and over 250 injured, according to Israel's Magen David Adom (MDA) emergency rescue service. It comes on the 50th anniversary of the 1973 War in which Arab states blitzed Israel on Yom Kippur, the holiest day of the Jewish calendar.
Around 2,200 rockets were launched from the Gaza Strip into Israel on Saturday morning, according to the Israeli military, while armed gunmen infiltrated across the border in a ground assault into southern Israel.
Hamas, the Palestinian militant movement that runs Gaza and claimed responsibility for the attack, said it had captured several Israeli soldiers near the border after its fighters entered Israel by land, sea and air using paragliders. Israel's military has not confirmed reports of soldiers having been captured, but one video published by Reuters appeared to show Palestinian gunmen dragging an Israeli soldier out of a tank at the Gaza fence.
MDA also said that one of their ambulances had been taken into the Gaza Strip.
Dubbing the operation "Al-Aqsa Storm," Hamas military commander Muhammad Al-Deif said in a recorded message that the group had "targeted the enemy positions, airports and military positions with 5,000 rockets" and that the assault on Israel was a response to attacks on women, the desecration of the al-Aqsa mosque in Jerusalem and the ongoing siege of Gaza.
IDF spokesman Lt Col Richard Hecht said in a briefing that Israeli forces "are fighting on the ground as we speak," listing at least half a dozen locations where fighting is taking place, including several villages, two army bases and border crossings.
Residents have told Israeli broadcasters that some militants are attempting to break into their homes, and urging for help from Israeli forces.
Netanyahu has vowed that Hamas will "pay a price it has never known" for the attack. "Citizens of Israel, we are at war – not in an operation, not in rounds – at war," he said in a video message.
The IDF has warned Israelis who live near Gaza to stay in their homes or head to shelters.
"In the last hour, the Hamas terrorist organization had begun a massive shooting of rockets from the Gaza Strip into Israeli territory, and terrorists infiltrated into Israeli territory in a number of different locations," the IDF said in a statement. Sirens warning of incoming rockets continued for at least three hours after the initial barrage.
"The Hamas terrorist organization is the sovereign in the Gaza Strip and is responsible for this attack. It will face the consequences and responsibility for these events," it added.
Militants launch attacks from Gaza
Israeli President Isaac Herzog said Israel was facing "a very difficult moment," writing in a statement on X, formerly known as Twitter.
"I wish to offer strength to the commanders and soldiers of the IDF, and to all the security forces and rescue services. I send my encouragement and strength to all the residents of Israel who are under attack," he added.
CNN teams in Jerusalem heard rocket warning sirens and booms, likely the interceptions of incoming rockets, as sirens continued to sound around Israel.
The first round of rockets was fired at about 6:30 a.m. Saturday morning local time (11:30 p.m. ET), when most Israelis are likely to have been asleep.
It is rare for Palestinian militants to be able to make it into Israel from Gaza which is sealed off and heavily watched by Israel's miltary.
Israel television Channel 12 reported that the infiltrators from Gaza had entered Kibbutz Beeri, saying that residents were urging the IDF to rush to the kibbutz.
Channel 12 also reported that infiltrators had taken hostages in Netiv HaAsara. Israeli authorities did not immediately confirm any details about those reports.
Social media footage obtained by CNN showed multiple masked gunmen in a pickup truck driving down a street in the Israeli city of Sderot. Gunfire could also be heard in the video.
One woman died and at least 15 people were wounded across southern and lowland regions of Israel in the militant attacks, Israel's Magen David Adom rescue service said a mid-morning update on Saturday.
MDA said the woman who was killed was in her 60s, revising her age down from 70s, which CNN had earlier reported.
MDA spokesperson Zaki Heller also urged people to donate blood and said a special blood donation drive is being organized in Tel Aviv for Saturday morning "due to an urgent need."
The rockets, which were witnessed by a CNN producer in Gaza, prompted sirens as far north as the Tel Aviv area, east to Beer Sheva, and many other locations in between.
Social media footage obtained by CNN showed the aftermath of a rocket strike in the coastal city of Ashkelon where multiple cars could be seen burning next to an apartment complex, a thick plume of black smoke billowing into the air.
Prime Minister Benjamin Netanyahu and Defense Minister Yoav Gallant are conducting security assessments at Israel Defense Forces headquarters in Tel Aviv, Netanyahu's office said.
Gaza is one of the most densely packed places in the world, an isolated coastal enclave of almost 2 million people crammed into 140 square miles.
Governed by Hamas, the territory is largely cut off from the rest of the world by an Israeli blockade of Gaza's land, air and sea dating back to 2007. Egypt controls Gaza's southern border crossing, Rafah.
Israel has placed heavy restrictions on the freedom of civilian movement and controls the importation of basic goods into the narrow coastal strip. Gaza and JerusalemCNN 
Photo: Ashkelon, (Photo by AHMAD GHARABLI / AFP)