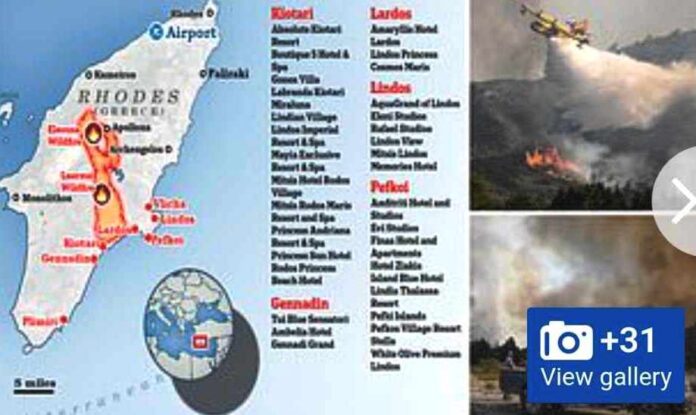 Britons staying in parts of Rhodes not hit by wildfires insisted today that there was 'nothing to worry about' – with just 20 per cent of the Greek island affected despite alarmist warnings from many quarters not to travel.
It comes after an easyJet pilot heading to the island issued a warning over the Tannoy to Britons on his plane, telling crying passengers that travelling to Rhodes was a 'bad idea' before they got off, according to a BBC reporter on the flight.
Much of southern Europe is enduring one of the longest, driest and hottest summers on record which scientists say has been caused by man-made climate change.
The Liberal Democrats were among those calling on the Foreign Office to advise against all but essential travel to Rhodes.
But despite the wildfires, those not staying in south-east Rhodes said they were keen to enjoy their holiday, as more Britons fly home on repatriation flights.
The UK has not discouraged people from going to Rhodes, although some Tories want the Foreign Office to add the island to its 'red list' so tourists can get refunds.
Britons in the upmarket resort of Kallithea, in the north, told MailOnline today they were not worried about the blaze that has devastated hotels further south. And others in Faliraki condemned claims that Rhodes is unsafe to visit as 'ridiculous'.
Holiday operator Tui has revealed all 42 hotels affected in the south-east – in Kiotari, Gennadin, Plimiri, Lardos, Lindos, Pefkoi and Vlicha.
Tui said it had about 39,000 guests on the island, 7,800 or 20 per cent of whom were affected by the wildfires. However it has cancelled all holiday bookings to Rhodes up to and including Friday, with no one being flown there this week.
Hundreds of people have already returned to the UK after parts of the island went up in flames, forcing many to sleep in schools, airports and sports centres.
But Olga Kefalogianni, Greece's tourism minister, has insisted travellers should still fly to Rhodes because there 'has been no disruption in the airport' and only 10 to 20 per cent of the island has been affected by the fires. She added that affected hotel accommodation accounted for 15 per cent of the total capacity of the island.
And UK Housing Secretary Michael Gove insisted the fires had been 'restricted to one part of the island' and Rhodes was still safe for British tourists to visit. However, Labour has said the Government should 'rethink' the advice it is providing. / Daily Mail
Continue reading
https://www.dailymail.co.uk/news/article-12334659/Rhodes-hysteria-Just-42-hotels-shut-wildfires-Greece-says-tourists-come-island-despite-alarmist-warnings-including-easyJet-pilot-told-crying-holidaymakers-flight.html