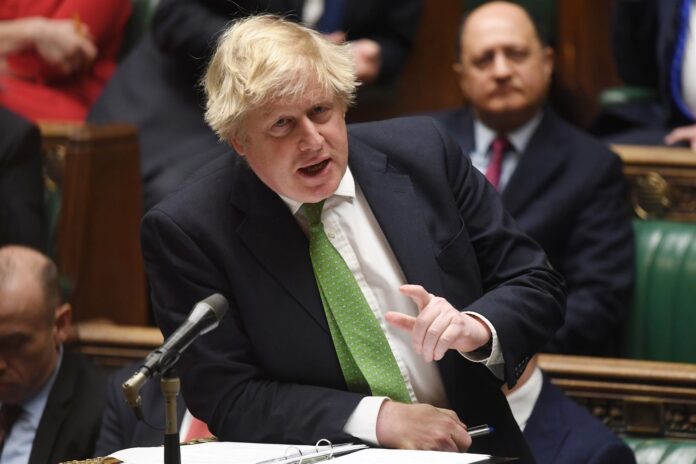 Boris Johnson has been urged to resign by a senior Tory backbencher as Labour labelled him "a joke" for making a "mealy-mouthed" apology to MPs over his police fine for breaking his own coronavirus rules. 
The PM offered a "wholehearted apology" to the House of Commons as he addressed MPs for the first time since paying his £50 fine, but claimed "it did not occur" to him that the rules were being broken at his 56th birthday celebration in June 2020. 
"That was my mistake and I apologise for it unreservedly," Mr Johnson said. 
But Labour leader Sir Keir Starmer told MPs that Britons "don't believe a word the prime minister says", adding that he's a "man without shame".
"As the mealy-mouthed apology stumbles from one side of his mouth, more deflections and distortions come from the other," he said, "it's what he does. It's who he is. He knows he's dishonest and incapable of changing".
He added: "But the damage is already done. The public have made up their mind. They don't believe a word the prime minister says. They know what he is."
Conservative former chief whip Mark Harper told Mr Johnson he is no longer "worthy" to be PM after being fined and submitted a letter of no confidence in the PM.
Mr Harper, who has previously said he was waiting for the police to conclude their investigation before deciding if Mr Johnson should go – said the PM's conduct was "indefensible".
He said: "I regret to say that we have a Prime Minister who broke the laws that he told the country they had to follow, hasn't been straightforward about it and is now going to ask the decent men and women on these benches to defend what I think is indefensible.
"I'm very sorry to have to say this, but I no longer think he is worthy of the great office that he holds."
A no-confidence vote in the PM is triggered if 1922 chair Sir Graham Brady has 54 letters from Tory MPs.
The prime minister repeated his apologies in the face of sustained criticism from opposition MPs.
---
Was the account the PM gave to the Commons on Tuesday likely to convince members of the public? Robert Peston explains
---
Along with Labour, the Lib Dems, the SNP and Plaid Cymru all called on the prime minister to resign, however all Tories barring Mr Harper were supportive of their leader.
SNP Westminster leader Ian Blackford said the PM only apologised because he was caught, describing him as a "serial offender".
It comes ahead of a Commons debate on Thursday looking at whether he misled MPs by claiming all rules were followed on Downing Street during the pandemic.
If the government loses the vote – a highly unlikely scenario – an investigation will be triggered looking into whether he was being honest with that claim, which could result in him being found in contempt of Parliament, suspended, or both.
Liberal Democrat leader Sir Ed Davey said if Mr Johnson won't resign he should allow Tories to vote freely on Thursday to decide for themselves if he lied to Parliament.
"If the prime minister won't resign, will he at least give Conservative MPs on Thursday a free vote so Conservative MPs can decide for themselves whether the prime minister deliberately misled Parliament or was just so incompetent that he didn't even understand his own laws?"
Mr Johnson replied: "I disagree profoundly with what he's just said but I repeat my apology to the House and to the country."
---
Watch as Boris Johnson addresses MPs
---
If MPs vote on Thursday for a Commons investigation, it would ascertain whether Mr Johnson had committed contempt of Parliament by misleading MPs, a conclusion which the ministerial code says should be followed by a resignation.
Sir Keir – and numerous other opposition MPs – say the prime minister is using the war in Ukraine as a "shield" from calls for his resignation, a strategy the Labour leader says is "pretty offensive".