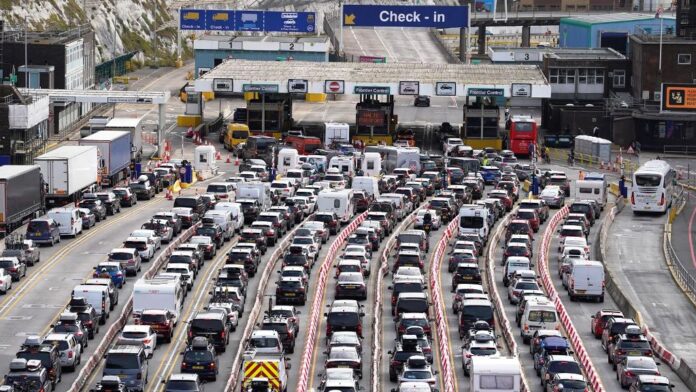 Holidaymakers travelled overnight to reach the Kent coast amid a third day of traffic chaos, despite the Port of Dover clearing its weekend backlog.
Border and ferry staff worked "through the night" to clear "huge volumes of tourist and freight traffic", so that services at Dover were finally able to "get back to normal by the early hours of Sunday morning", a port spokesperson said.
Port officials say they have processed 72,000 vehicles and 200 miles of traffic so far this weekend.
But a critical incident is still in place across Kent, alongside Operation Brock, with the AA claiming the worst congestion is now around the Eurotunnel terminal at Folkestone.
Highways England is warning of "severe delays", while drivers are reporting average speeds of just 5mph in some places.
Jack Cousens, head of roads policy of the at the AA, said: "Dover has now recovered, but Folkestone has become the hotspot of holiday hell.
"Drivers are now trying to find alternative routes down to the Eurotunnel terminal at J11a on the M20. Holidaymakers are trying to use the M2 and then find ways to 'drop down' into the A20 and the terminal via the back roads.
14-hour queues for Eurotunnel
Many trying to reach the Eurotunnel have reported setting off in the middle of the night in a bid to catch their trains. One passenger claimed they had to queue for 14 hours.
Stuart and Janet Harrison, who are travelling to their holiday home in Austria, said they weren't hopeful of making their train because of the queues. / info: sky news