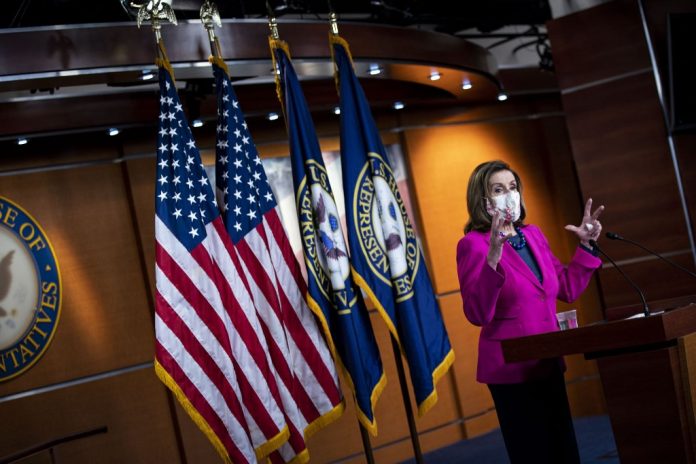 WASHINGTON — The House voted early Saturday to pass President Joe Biden's $1.9 trillion Covid-19 relief package, a step to implementing his vision for bringing the pandemic under control just days after the U.S. crossed the tragic milestone of 500,000 deaths.
The Democratic-controlled House voted 219 to 212 to approve the bill, which includes $1,400 direct payments, a $400-a-week federal unemployment bonus, a per-child allowance of up to $3,600 for one year and billions of dollars to distribute the coronavirus vaccines and to assist schools and local governments.
The vote split largely on partisan lines, with every Republican voting against the measure and just two Democrats joining them — Jared Golden of Maine and Kurt Schrader of Oregon.
The bill now goes to the Senate, where a provision to raise the minimum wage is likely to be removed. But the rest of the package is in good shape to pass as Democrats are using a process that doesn't require Republican support.
If enacted, it would be the sixth round of aid from the federal government. The economy is still reeling from widespread shutdowns, and most Americans continue to wait their turns to be vaccinated. Democratic leaders want the bill to become law by March 14, when jobless benefits expire.
"Tonight, Congress is taking action to crush the virus," Speaker Nancy Pelosi, D-Calif., said on the House floor, calling the legislation "transformative" at mitigating poverty. "We are putting money in workers' pockets… As President Biden has said, help is on the way."
The legislation faces broad opposition from congressional Republicans. House Minority Leader Kevin McCarthy, R-Calif., decried it as a "liberal pipedream" and said Democrats were "jamming it through in the dead of night."
"Don't call it a rescue bill. Don't call it a relief bill," he said. "For the American people, it is a loser."
Recent polls show that the package is popular with most Americans, earning 66 percent support in an Economist/YouGov study and 76 percent support in a Morning Consult/Politico survey.
The $1,400 checks would be sent to individuals who make up to $75,000 a year or married couples making $150,000, and payments would gradually decrease for those who make more, zeroing out at $100,000 for individuals and $200,000 for couples.
"Everything is not fixed. We have a long way to go. And that day when everything gets back to normal depends on all of us," Biden said Thursday at an event to mark the 50 millionth coronavirus vaccination shot. "It depends on Congress passing the American Recovery Act."
The House bill also includes a federal minimum wage hike from $7.25 to $15 per hour, phased in over four years. The provision, a top progressive priority, is all but doomed in the Senate after a ruling Thursday evening by the in-house referee that it violates the chamber's rules for legislation that can pass with a simple majority.
Biden had included the wage hike in his proposal. White House press secretary Jen Psaki said in response to the ruling that the president is "disappointed" but "respects the parliamentarian's decision and the Senate's process."
Psaki said he would "determine the best path forward" on a minimum wage increase, but called on legislators to "move quickly to pass" the rest of the Covid-19 relief package in the meantime.
Pelosi said the House, which is not bound by the Senate's procedural restrictions, would keep the $15 wage provision in its bill on Friday despite the parliamentarian's decision.
"House Democrats believe that the minimum wage hike is necessary," she said.
The federal wage floor of $7.25 an hour hasn't risen since 2009.
After the parliamentarian ruling, top Senate Democrats immediately began looking for a way to use tax penalties to push companies to pay higher wages, which is more likely to comply with the rules.
Senate Finance Chair Ron Wyden, D-Ore., said Friday he's working on a "plan B" that would slap a 5 percent tax penalty on big corporations' overall payroll, growing over time, if their workers make less than a certain amount. It'd include "safeguards" against companies outsourcing labor or replacing workers with contractors to "avoid paying living wages," he said.
Senate Majority Leader Chuck Schumer, D-N.Y., is considering adding to the Senate bill "a new provision to penalize large corporations that don't pay their workers at least a $15 minimum wage," said a senior Democratic aide.
Democrats are eager to address the issue in the reconciliation process because it would otherwise be subject to the 60-vote threshold in the Senate, all but ensuring its demise due to a lack of Republican support for their minimum wage plans.
The rest of the $1.9 trillion package has overwhelming support among Democratic lawmakers, and it is expected to become law, possibly with some changes in the Senate.
"This is a spectacular piece of legislation," Pelosi said, assuring that minimum wage kerfuffle wouldn't stop the bill from becoming law. "While the Senate has prevented us temporarily from passing one aspect of it, let us not be distracted from what is in here."
nbc news